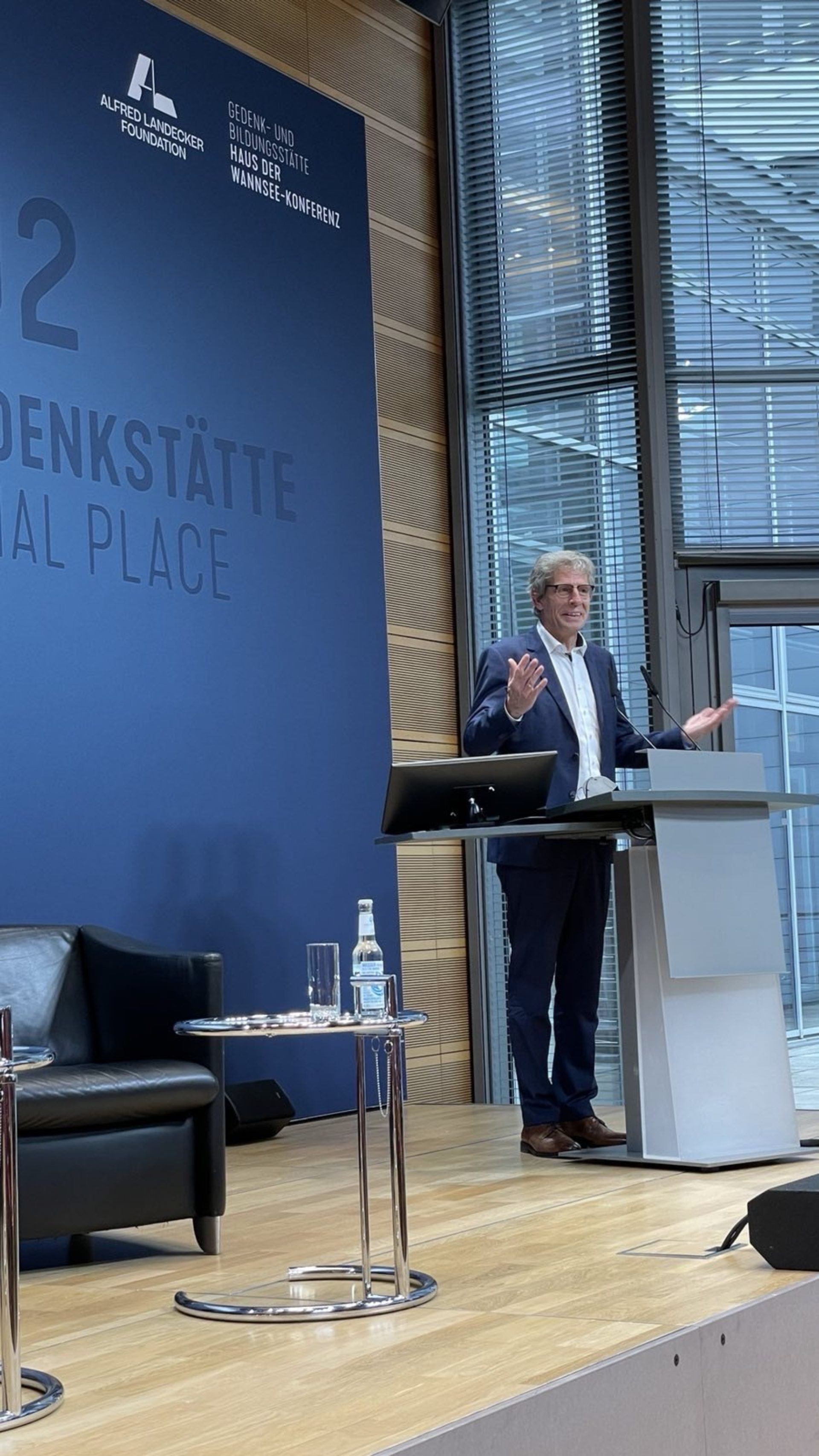 Dear Minister of State Claudia Roth,
Dear Senator Dr. Lederer,
Dear Director Deborah Hartmann,
Ladies and Gentlemen,
Dear guests,
I am pleased to welcome you all here on behalf of the Alfred Landecker Foundation, and I extend a very warm welcome - also on behalf of the chairman of the of our Foundation, Dan Diner - to this conference jointly organized with the House of the Wannsee Conference.
80 years after the meeting at Wannsee, and around 77 years after the liberation of the Auschwitz concentration camp, we ask ourselves the question: "What remains?"
I address you honestly now, my esteemed colleague, Deborah Hartmann, and our co-organizers, the more I have looked at the program of our conference in recent days, the more often I have asked myself whether resignation - perhaps our own resignation - can be sensed here.
Twenty years ago, I would have found the question of "What remains?" a rhetorical one. At the beginning of the new millennium, there was broad public debate about forms of dealing with the past. The memorial to the murdered Jews of Europe in the center of the German capital, the debate about compensation for millions of forced and slave laborers: these were broad social debates about guilt and responsibility; about understanding the foundations on which our democratic society actually stands.
These debates seemed to me to be evidence of a broad and entrenched social consensus. I still remember very well the moving debate on the Wehrmacht exhibition in the German Bundestag - in 1997, indeed a great moment of the German parliament. And today?
In 2018, the chairman of what was then the largest opposition group of the German Bundestag referred to National Socialism as, and I quote, just "bird shit" on German history. The chairman of a state parliamentary group from the same party called the Memorial to the Murdered Jews of Europe a "monument of shame."
Such statements also lay the ground for forgetting and denying history, for the rise of conspiracy ideologies and anti-Semitism. We experience this today almost daily on the streets, with comparisons to Anne Frank and Sophie Scholl, and the misuse of yellow stars. Today we realize that our consensus is eroding.
It is important to the Alfred Landecker Foundation not to become resigned. Nor simply to be outraged. First and foremost, we ask ourselves why it is apparently possible in these times to activate or reactivate deep-seated prejudices, the division of "us" and "others" in broad sections of our society so easily once again.
"What remains" is therefore necessarily also the realization that there is a need for a watchful alarm system that detects cracks in our basic democratic system at an early stage.
Democracy means debate, negotiation, a willingness to compromise, the tolerance of opposites. It is therefore - by its very nature, so to speak - complex and also, to a certain extent, tedious. How does this fit into an age in which the formation of opinions and wills is subject to new, seemingly unchecked dynamics?
We at the Alfred Landecker Foundation therefore see investigation into these profound social changes - and not only ideation about further developments and adaptations of our democratic coexistence, but to test and establish them - as our most urgent task. In other words, to strengthen the interaction between research and social practice. We call this a combination of reflection and action. One of our most noble tasks is to support, especially in these critical times, those who fight for a democratic society: through the analysis of conspiracy ideological milieus on Telegram, through fighting against hate speech on the net, also through a computer-based analysis of anti-Semitic occurrences on online platforms, but also through serious journalistic reporting - or even through innovative approaches in the field of commemorative culture and contemporary confrontation with the European history of violence of the last century. This is what will take place here over the next three days.
I am confident that this event is also part of a much-needed update for our culture of commemoration and engagement with National Socialism and the Holocaust. The fields in which there is potential for development are numerous: the lack of acceptance of critical commemorative culture beyond political and urban centers, the reluctance of actors in the culture of remembrance to engage in current discussions, a widening ignorance of historical facts and the subsequent rise in the German narrative of victimhood - and, of course, a prevailing skepticism about the use of new technological formats, especially in the digital space.
We can also see that it is vital, again and again, to look at events that seem so familiar to us. We want to explore the question of what is actually wrong when - despite institutions of good education, such as the House of the Wannsee Conference, despite extensive school involvement, despite memorial days and commemoration ceremonies - people continue to say in family and private communication about National Socialism: "It was the seduction of Hitler and his cronies, one could not have done anything, otherwise you would have been sent to the camps - and Jews were helped". These are the results of a representative study from 2018.
But we know that it was different. Almost everyone took part. In the coming days, we will talk about how functionaries of Nazi organizations, as well as representatives of the administration and the ministerial bureaucracy were part of the machinery.
"What remains?", this question and this conference also mark the beginning of a series of events by our Foundation on historical events that are now approaching their 80th anniversary. In the coming year, we will devote ourselves – again, with a renowned partner– to the Warsaw Ghetto Uprising.
Presenting the causes, manifestations, and effects of National Socialism is more than just a form of historical commemoration; it is part of addressing current threats to our open society.
I am therefore particularly pleased that not only Dan Diner, Chairman of the Alfred Landecker Foundation and Chairman of its Board of Trustees, but also Norbert Frei, Chairman of our Academic Council, and Sybille Steinbacher as well as Cilly Kugelmann, both members of this Council, will contribute to shaping this debate. Together with the Wannsee Conference Memorial, we have created a space over the next three days in which not only the events of 80 years ago can be presented and contextualized, but also discussed in relation to how to deal with them today.
I would like to thank all the contributors, especially the colleagues from the House of the Wannsee Conference, without whom the debates, discussions and encounters of the next three days would not have been possible.
Thank you very much.